WHO WE ARE
Come and Toke It is a lifestyle brand focused on provoking positive change in the way we consume, talk, and think about the benefits and truths of the cannabis plant. Stoner culture no more, we aim to approach this plant in a responsible and mature way and give cannabis lovers everywhere a phrase to rally behind.
We seek to support and network with like minded organizations and people to help everyone benefit from the cannabis plant.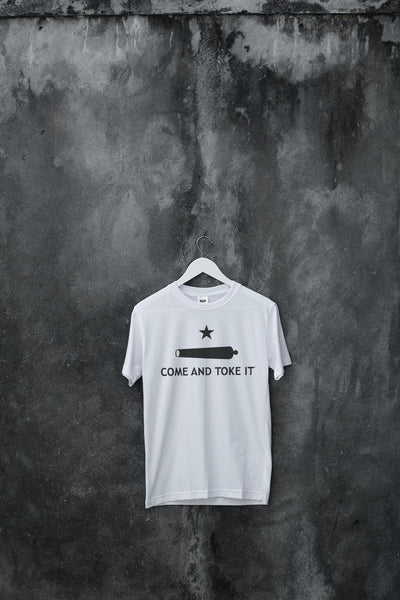 THE OG COLLECTION
Come and Take It earned its notoriety during the Texas Revolution; when a group of Texians defiantly rejected an order to hand over their lone cannon at the Battle of Gonzales in 1835. To dare to openly challenge a better-equipped force, with a simple flag to display their response to their enemy's demand, goes to show how their beliefs stood strong against the odds. This brazen act was all that was needed to set the tone of their resolve.
Come and Toke It is a new interpretation of such actions. The landscape of the country is evolving and with the power of our citizenry, we the people, can change the way the cannabis plant is approached. With a focus on research concerning the plant and its uses, we hope to generate an educated, honest discussion. 
shop all
The TX Collection
You've heard 'these boots are made for walking'. Well, these shirts are made for talking. With roots in Texas, we wanted to create a shirt that embodied our beliefs and emblazoned others to speak their mind and champion a safe approach to cannabis.
shop all